WEHORR
After the indomitable spirit that we mustered for Hammersmith Head, we were rewarded with sunshine for Women's Head on Saturday 11th.  With 295 entries, our Senior crew came 88th overall (20:42) and our Novices came 256th (22:36).  Both crews came off the water exhilarated and pleased – the best and strongest piece they'd done since the start of training! They certainly looked well flying past the Clubhouse.
Hammersmith Head
Yet again the indomitable spirit of BBL came to the fore last Sunday, as the weather battered our boats and our catering efforts, the electricity fused in the Clubhouse, and the Gazebo blew away!
Out on the water we had to wait a very long time before we were allowed to race (it was cold) but once over the start we were quick! We were the fastest WMasC crew (12:39), Jackie D and Ali E in their composite boat were the fastest WMasF crew (12:44) and the Novices came 15th out of 21 (13:42).  Well done to everyone racing, and particular thanks to our last minute sub Rachel H, and our coxes Katie M and Kitty and to Jo Byrne who drove the BBL launch.
Double win for BBLRC at Winter Weybridge Head
My goodness it was cold, and the loos froze, but we came away with 2 pennants – yes two!  Katy and Bec stormed to victory in the WMasC 2x, and we won WMasD 4x in the afternoon. The highlight of the racing was to hear a distinguished and most eminent Cygnet cheering us on; "Well done Civil Service Ladies" quoth he, thereby neutralising some 20 years of recent history.
BBLRC win at Met Regatta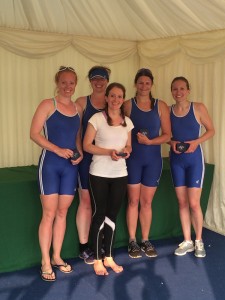 It was an incredible weekend of racing for our Intermediate Coxed Four crew.
On Saturday at they won their IM3 heat and came 3rd in the final
On Sunday they came 2nd in their WIM2 heat to go through to the final, won their WIM3 heat, and then won the WIM3 4+ final – both times pushing through the pack in the last 750 metres. Wonderful to watch, and to hear the astonished commentator over the tannoy!