Wallingford
Well done to both crews racing at Wallingford on Sunday – the WChallenge 4+ didn't sink or swim, and the WClub 4+ came 15 out of 30. Given the appalling conditions both were a miracle.  Thanks are due to Sue for getting boats and all to Wallingford and then down the course – nearly drowning in the process.
Vets Head
Head Racing is done, Training Camp is done, the grass needs mowing and we are looking forward to Spring Sculling Camp this weekend.
Sadly HORR was cancelled, but Vets Head went ahead in the sunshine, with a(nother) mammoth catering effort from Penny and her team. Our WMas C eight had a cracking race, walking past one crew and catching a second – with credit to Kitty's excellent coxing. Thanks to our coaches and subs, we had managed a lot of productive water time, which pulled us together and sent us flying!  One well known (and highly esteemed) Cygnet was shocked to discover that it was indeed BBL racing past in such a blaze of speed!  We came 4th in our category and 13th fastest female crew overall.  Well done ladies!  A cracking finish to the season.  It was lovely to see Liz McVeigh boating from our hard (winner WMas E) and Ali and Jackie on their way to winning WMas F.  A great day for BBL!
Then, it was load up and off – down to Wycliffe BC on the Gloucester and Sharpness canal where we had our annual Training Camp, surrounded by swans, cowslips and yet more sun! Since we came back from Training Camp, Abby has stepped up to be Head Coach, and we have welcomed Sam Bacon on to the coaching team to take our Saturday morning Intermediate and Novice sessions, working alongside Sue and Sian.
So as you can see, we are all set up for the Regatta season ahead, with two crews entered for Wallingford on 30th April and plans for Masters racing at BR Nat Champs in Nottingham in June.
WEHORR
After the indomitable spirit that we mustered for Hammersmith Head, we were rewarded with sunshine for Women's Head on Saturday 11th.  With 295 entries, our Senior crew came 88th overall (20:42) and our Novices came 256th (22:36).  Both crews came off the water exhilarated and pleased – the best and strongest piece they'd done since the start of training! They certainly looked well flying past the Clubhouse.
Hammersmith Head
Yet again the indomitable spirit of BBL came to the fore last Sunday, as the weather battered our boats and our catering efforts, the electricity fused in the Clubhouse, and the Gazebo blew away!
Out on the water we had to wait a very long time before we were allowed to race (it was cold) but once over the start we were quick! We were the fastest WMasC crew (12:39), Jackie D and Ali E in their composite boat were the fastest WMasF crew (12:44) and the Novices came 15th out of 21 (13:42).  Well done to everyone racing, and particular thanks to our last minute sub Rachel H, and our coxes Katie M and Kitty and to Jo Byrne who drove the BBL launch.
Double win for BBLRC at Winter Weybridge Head
My goodness it was cold, and the loos froze, but we came away with 2 pennants – yes two!  Katy and Bec stormed to victory in the WMasC 2x, and we won WMasD 4x in the afternoon. The highlight of the racing was to hear a distinguished and most eminent Cygnet cheering us on; "Well done Civil Service Ladies" quoth he, thereby neutralising some 20 years of recent history.
BBLRC win at Met Regatta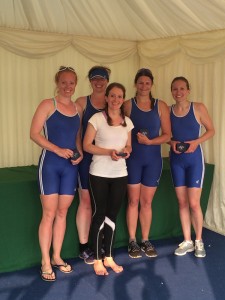 It was an incredible weekend of racing for our Intermediate Coxed Four crew.
On Saturday at they won their IM3 heat and came 3rd in the final
On Sunday they came 2nd in their WIM2 heat to go through to the final, won their WIM3 heat, and then won the WIM3 4+ final – both times pushing through the pack in the last 750 metres. Wonderful to watch, and to hear the astonished commentator over the tannoy!