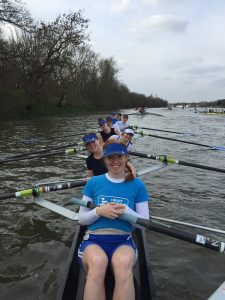 Despite being well accustomed to the art of layering thermals and waterproofs, it does lift ones soul as a cox on the day of a head race when conditions are forecast to be mild and sunny.
Just over a week ago, on the morning of WEHORR, we were graced with such an occasion, and to top it off the Barnes Bridge Ladies' Senior 8+ was setting off near the front of the pack at number 53.  We were all looking forward to the prospect of minimal marshalling time and although the GB composite crew who was supposed to be setting off in front of us had scratched, we were happy to settle for following the Leander Elite Women's 8+ down the course instead.
Needless to say, Leander bid us farewell quite early on in the race.  Be it that the crew comprised of a number of Olympic silver medallists and world champions, it was something that we expected might happen and had made our peace with.
Aside from a brief encounter with the Cambridge Women's B boat as they caught up with us from two places behind, we didn't see much in the way of other boats down the course.  Sons of the Thames did try to make a move on the approach to Hammersmith Bridge, but an effective jump back up to rate 36 quickly took care of that.
Although for both cox and crew a good battle with another boat was missing from the experience this year, we got off the water knowing it was the best we had performed to date.  Climbing 3 positions from 91 to 88 since our last WEHORR endeavour, and making it down the course without being over taken (Cambridge obviously don't count), were achievements we were happy to be taking home with us that afternoon.