With WEHORR and Vet's Head now a seemingly distant memory and Chiswick regatta less than a week away, it can only mean one thing…It's that time of year to make space on the shelf for some new silver wear. With competitive crews stretching across Novice, Senior, and Masters levels, Barnes Bridge are on the look out for an extra pair of steering hands to help get the crews out on the water.
For anyone out there who has dabbled in coxing and looking to get back in a boat, or if you'd like to give it a go and develop your skills in a friendly and supportive environment, we'd love to hear from you! Are there any prerequisites you ask?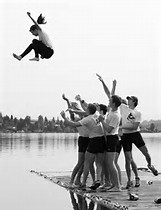 Knowing your left from right (helps with the steering)
Enjoys helping others be the best they can be (sounds corny but it's true)
A healthy degree of competitiveness (comes in handy during races). This can be developed
Fine with heights and being fully immersed in river water (subject to winning) but it's not a deal breaker
Just fill out your details here if you'd like to find out more and we will be in touch!