What a day it was!  Between the Barnes Bridge Ladies and the Cygnets next door, we had a whole day of racing and spectating covered.
The first of the day (for us, the boys started at an ungodly 8:44) was our Novice 4+, who were victorious over Vesta by an impressive 4 lengths.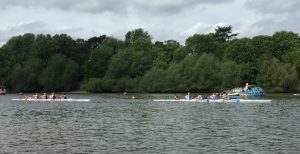 They went on to beat Twickenham in the semi finals by 3 lengths, before being knocked out by Mortlake in the finals, only by 2.5 lengths I hasten to add.  A great performance by the girls.
Next up was our IM3 4x, who having to make a last minute substitution and being up against Eton Excelsior, did not fare so well. Pesky kids!
The thrill of the day for me personally, had to come from our Masters E 2x.  Things started off on a more interesting foot all together, be it that they were racing after the change in tide and could have probably got away with pushing off the trailer straight into the river, the water level was so high.  They did however follow procedure and boated from the correct location, assisted by a strapping young fellow who was happy enough to wade into the river up to his waist in order to ensure our ladies got off ok.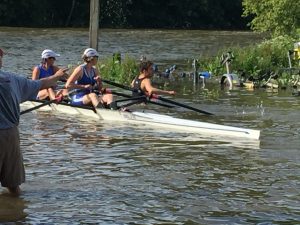 The race itself was a gripping event, with Barnes Bridge fighting off Twickenham to seemingly secure a narrow victory in the nick of the time.  With the staggered finish, it was however pronounced a dead heat, and a re row was in order, in which Twickenham stole the race by just half a length.