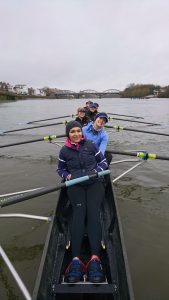 After a Saturday paddle in stunning, although cool, sunshine, we arrived at the club on Sunday morning to drizzle and icy winds. However, spirits among the Novice 8 were (as always) high and once we had maneuvered Ali B off the rack and through the catering tent (don't ask), we were boating and eventually on our way up the river.
After the sun made an appearance, bin bags (our matching marshaling kit) were packed away and spirits rose even higher. The race plan was slightly different from Quintin and our wonderful cox Katie M had been going through it with us beforehand. We knew that,above all, we were racing against ourselves this time, and we knew what we had to do.
Finally we made it up to the starting point above Chiswick Bridge, made a quick turn and then went into a strong paddle. We took the rate up to 24, finding the rhythm in the boat, and then flew into the race with the start sequence we had used at Quintin and had practiced extensively during Saturday's outing.
We made our way down the course, pushing off Chiswick and Barnes Bridge, feeling the support as we passed the club and left Barnes behind us. Somewhat choppy water was threatening to rain on our parade, but as we passed Chiswick Eyot, we found our mojo again, and we really felt the boat move beneath us with every stroke.
The last winding for the end had us empty the tank and we finished feeling that we had done what we came to do. On to WeHorr!