The last four weeks have been most eventful for the Barnes Bridge Ladies.  The first weekend of June saw the Henley 4+ heading off to The Metropolitan at Eton Dorney.  A regatta at which they had done particularly well the year before, winning their IM3 category.  Alas this year such a victory was not in the cards.  Saturday saw the ladies in the top 3 of the their heat, along with Upper Thames and University London.  London took the final, followed by Putney Town – well done to our fellow tideway crew!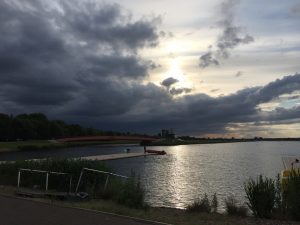 Tier 2 on Sunday saw the 4+ up against more university crews, and a tough heat saw a finish in 5th place.  As ever the races were good experience, and it was great to see the progress made since last year in staying with the other crews during those first few strokes off the start.
On to the Masters Championships!  The first time to Nottingham for several of the 8+, we soon experienced the infamous windy conditions.  That being said, we successfully attached to the stakeboat, and successfully remained attached whilst one of the other crews had a little more difficulty with the headwind. #winning.  It was a gripping race over the 1000m course, coming from the back to miss out on first place by 1 second to the Lea Masters A crew.  1 second!  Deputy Captain Sarah and her 2+ partner Liz also pulled a second place out of the bag, fighting off a Thames crew of really tall proportions.  It has to be said.  Really Tall.  A big well done to Jackie and Ali as well rowing in their composite crews.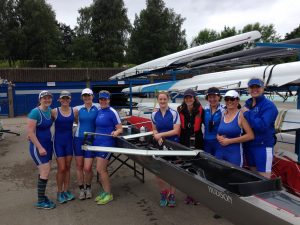 Next stop was Henley Women's Regatta.  A beautiful paddle on the Wednesday was a great way to spend an evening ahead of the time trials on Friday.  The glorious weather held out, and a successful time trial saw the girls into the first round on the Friday afternoon.  Alas, as anticipated, Oxford City were a tough opposition.  Despite a strong start and solid row from the girls down the 1500m course, Oxford took it by a length.  Comfort was taken in the fact that we made them work hard for it (comfort was also taken from several jugs of Pimms – the silver lining of not having to row on Saturday)  There's always next year!