You would be forgiven for thinking, based on the absence of posts on here of late, that the ladies haven't been up to much this summer.  Well I am going to set the record straight! We have been up to lots, just have a read:
Richmond Regatta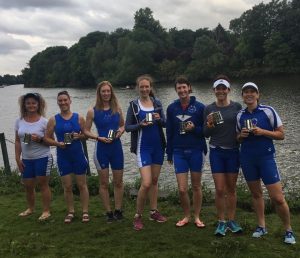 Same course different day – Richmond proved to be more fruitful for the ladies than Twickenham, with the WNov 4+ winning their final easily, as did the WMasC 2x, lots of pots! It has to be noted the boys next door also got some silverware out of the occasion, winning their 4+ final as well.
Henley Masters
Representing the Barnes Bridge Ladies this year we had a WMaSB 4x.  They did a sterling job getting through the semis by beating Avon county by 1.25L.  Unfortunately victory was snatched from their grasps by Exeter in the final.
St. Neot's
Not the largest turn out by the BBLRC and Cygnet crews this year, but a merry bunch none the less headed off bright and early Saturday morning to set up camp for the weekend.  All started well, the sun was making frequent appearances, and one of our Novice4+/Elite.2 4+ (!!!) made it through into the semi final, beating Curlew easily.  Alas the remainder of the day was a little less rosy, with the heavens deciding to open and the girls losing out to Lea in the semi final, and the 8+ losing out to Leeds in their first heat by a 2/3 of a length.  None the less it was a good excuse to visit the refreshment tent for several well deserved pints.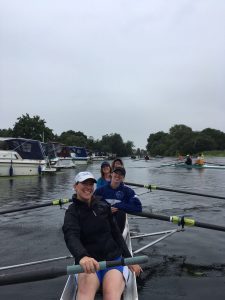 Sunday brought yet more rain, and a loss for our 4+ against Maidstone Invicta/Banks by a tight 0.5L.  Much praise has to be given though for Penny and Carly, who had seized the opportunity to sign themselves up for a Novice 2x, and who did a stellar job, well done!  An inspiration indeed for anyone thinking of giving a first race a go!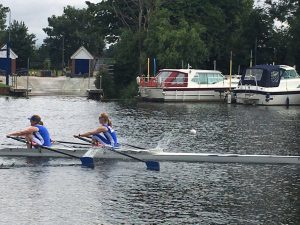 Henley T&V
Again we had a 4x representing the club at Henley, who were having to step up to IM2 for the occasion.  Vesta and AK took 1st and 2nd, but a great chance to steer and race on the iconic course.  As is often the case at this particular regatta, it rained lots and everyone got wet to boot. With that in mind a special thanks to Tom and Jo who came to support the ladies and the Cygnet crews racing.
So that brings us up to date!  Is that it now you ask?  Indeed not – the crews have been confirmed; watch this space for more updates on Peterborough and Oxford City!