The first head race of the 2018 came upon us on a pleasantly mild January morning.  The Ladies had two boats entered, a WIM3 and a WMasC.  The morning started well enough, with the Masters getting a pre race outing in bright and early, and the WIM3 opting for a little more of a lie in order to beasts their warm up on the ergs.
The marshalling also went as good as could be expected to start with; I believe 'splendid' was the word used by the marshal to describe the WIM3 8+.  We were of course in (the correct) position in good time with our bows tucked nicely into the bank as required.  It must be said that the our ability to earn such a compliment was in part due to the fact that all bar 3 of our division didn't turn up until the start of the race.  The peace and quiet was appreciated whilst it lasted.
Unfortunately, what started as a mild January morning, soon turned into more of what one might expect from the time of year.  Cold and windy.  The rain held off for the most part thank goodness.
The race itself went very well for both crews, with the Masters placing 2nd in their category, only thwarted by a Quintin/TSS/MAA/London crew.  Need I say more.
The IM3 crew came 15th out of 24, beating the two crews that we wanted to beat.  We all know who they are.  Hurrah!  The ladies also got a fantastic cheer from Hammersmith Bridge at the finish, it was most welcome!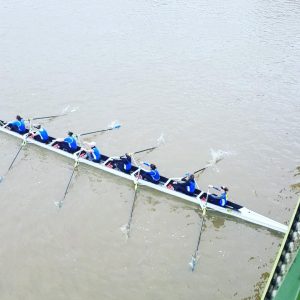 All in all a great platform to build on going forwards, WEHORR we're coming for you!