We're a few weeks into the regatta season and we already have some silverware!
Hammersmith regatta report
The first regatta of the season wasn't the idyllic summer scene we were imagining. Windy and choppy conditions made the racing seem more like seafaring than fine rowing.
We had two entries – WIM3 and WNovs.
WIM3 had a straight final with Sons. On board we had super sub Hilary – a fantastic opportunity for the crew to have such an experienced rower in stroke seat. For four of the crew it was their first regatta race, and three of the crew joined BBL in the Get fit and row intake. The race had an excitable start, but then settled into it through rough waters to a convincing win.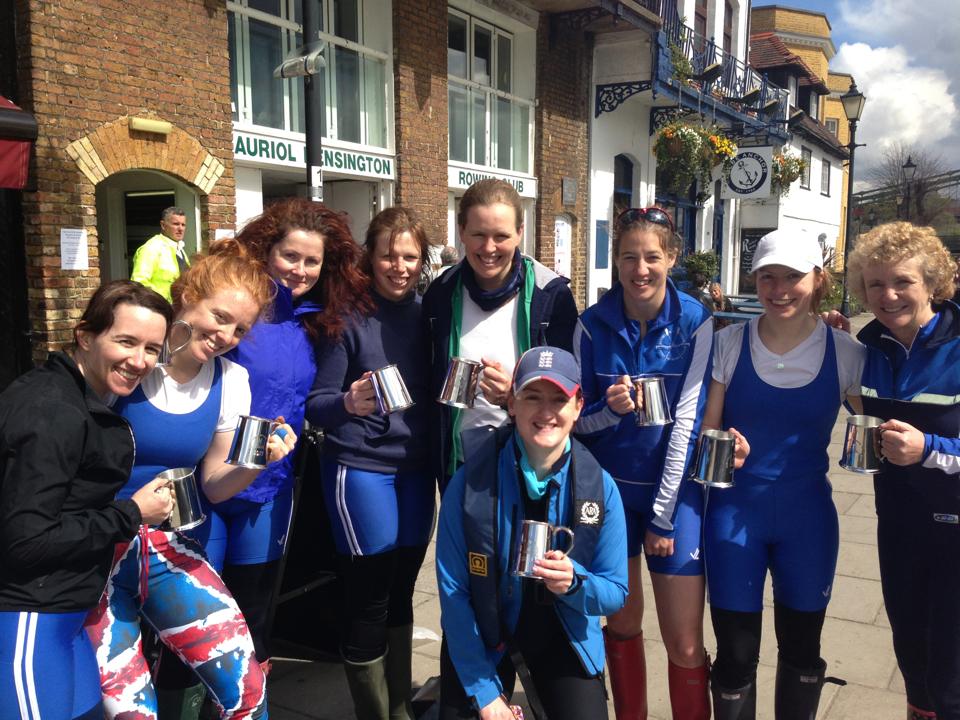 WNov raced against Putney High School in their heat. This was a first regatta race for all the crew. Dave expertly coxed them in a solid race, Putney HS were a margin stronger and went on to win by a couple of boat lengths. All good experience for next time.
Wallingford regatta report
Dorney was unusually calm which was a relief for crews and cox. We entered both WIM3 and WIM2 categories so the crew could get as much multilane experience as possible.
Sue Grobler coxed the crew through a very exciting first race, missing second place by a small margin. The WIM3 category had three heats, unluckily the crew missed out going through to the final. Looking at the times of the other heats puts the crew having beaten eight other boats.
Second race of the day, WIM2. We knew this was going to be a tough one. Our crew was made up of four people who have rowed less than a year. The crew stuck with the pack and gave a great performance. Post crew chat was very positive, with everyone feeling they had a much better race second time around.
Chiswick regatta
Sharon and Kate are back in the double at Chiswick regatta. They had two convincing wins in the quarter and semi finals, beating MAA by 5 lengths, and London by 2.5. The final was super close, the ladies narrowly missing a win by half a length (though I heard it was a canvas). Next time ladies, you'll get those novice sculling pots this season I'm sure.
Well done to all crews!
Next up is Borne @ Chiswick, where we have Sara and Marion in a Mas Novice 2x and some mixed races with Cygnet (though we do need a few more boys), sadly we didnt get an WIM3 8+.
Good luck and good racing!