Hello all
Its been a busy few weeks with squads training for regattas and committee members in organisation mode.
Race reports…
Putney Town Regatta
A win at Putney town for an Intermediate Eight, and close races for two Novice Fours. Well done to all the crews!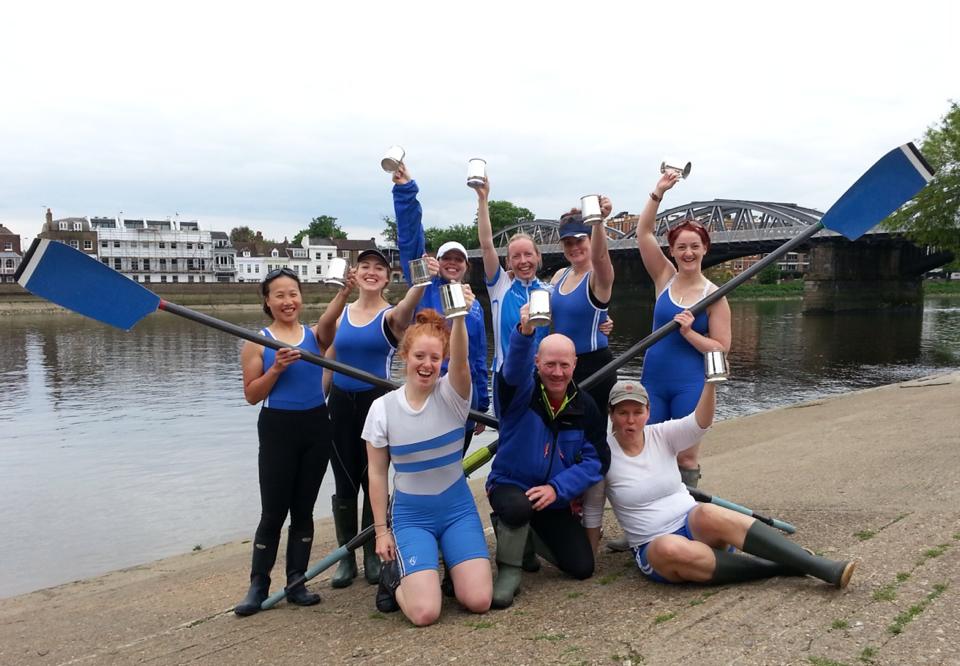 Metropolitan Regatta
We finalised the Henley Crew who raced at Met at the weekend. The crew had a cracking start, being in front position at 250m, then went on to narrowly miss out on a repechage place. All good experience. Special mention goes to Katie Coyle who coxed her first ever race at Met – brilliant work.
Social events…
CS Reunion Lunch
The annual reunion lunch took place at Linden House. Myself, Jo Broadhurst and Sue Grobler were entertained by the ladies who previously rowed at the Civil Service Boat House in the 60s and 70s. Jo was delighted at meeting some of our boat namesakes. Our President, Rubina Curtis, and the ladies attending the lunch passed on their congratulations to club and its ongoing success.
Coming up…
Racing at Barnes and Mortlake, we have entered a number of crews from the Happy Monday's, Intermediate and Novice squads. Good luck to all the crews, lets hope the timings work out and we can work on that pot collection!
Henley Women's Regatta is only a few weeks away, we'll be holding a training and preparation weekend for both Novice and Intermediate squads at Henley 15/16 June.
Next week, Tuesday 11th June, we will be holding an evening with John Inverdale. John will be visiting in the capacity as our Patron. We will be getting John out in a boat and holding a BBQ. It looks like summer has arrived for what will be a great evening. Please contact, Katy Owen, kowen991@gmail.com, if you would like to attend. All CS/BB ladies past and present (and partners) invited.
Your club needs you…
The next Captain's meeting will be scheduled for early September. This is when we elect the Captains – Captain, Vice and Deputy. If you are interested in one of these roles or would like to chat about being more involved in our fabulous club, please drop me a note or catch me at the club. We will also be looking for volunteers for the Boathouse Executive (AGM due shortly). Roles include Chairman, Secretary, Treasurer and most importantly Bar Steward.
And finally…
Today the new launch was collected and will be operational very shortly. Now we have two launches we feel its appropriate to give them official names (our current launch being nameless). Using the coaching theme we considered…Catches + Finishes or we could follow the ladies rowing theme with Glover + Stanning. If you have any ideas for a suitable pair of names please let me know. Deadline Thursday (6th June) at noon.
See you on the water or at the club soon.