Pots!
It was an exciting weekend with sunshine and novice pots at Barnes and Mortlake International!

We mixed it up with Happy Mondays, Jo, Intermediates Lisa and Abi and Novices, Emilie, Clare, Lucia, Katy W and Liz to a confident and convincing win against Poplar and Putney Town. Well done ladies. Unfortunately the pots had run out, but giving cox Dave a dunk in the Thames made up for it.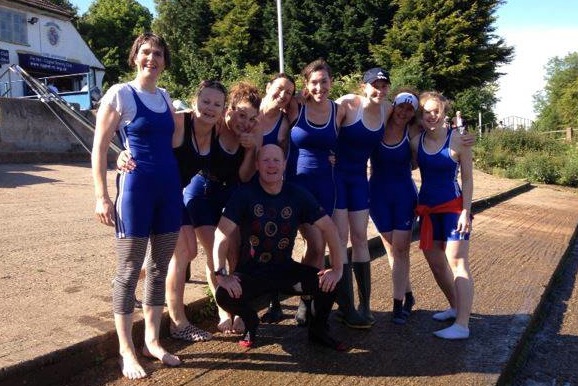 Tuesday 11th – an evening with John Inverdale
John Inverdale, our patron, will be visiting for some fun eights followed by BBQ and launch namings. Members past and present and of course Cygnets welcome. Please let Katy Owen know if you have not already.
Henley Women's Regatta
Its ten days until HWR. We are entering the Intermediate Club Eight event. Unlike recent years the crew will not be racing in the time trial. Their first race is against local club Twickenham at 2:45pm.
Good luck to the crew:
Cox Katie Coyle
Stroke Sharon Leow
7 Ellie Estchild
6 Lucy Fry
5 Nicola Butler
4 Cara Cahill
3 Clemmy Fontaine
2 Abi Andjel
Bow Catherine O'Leary
Of the crew, five of the rowers learned to row at BBL, including three who joined in September following our new Get fit and row course. A phenomenal achievement. Thank you to coaches, subs and cox volunteers who have helped throughout the year.
I hope some of you will be able to join me on the bank at Henley to cheer the crew on.
See you there!