Day two and we were met with more damp and grey, but the wind was absent and that was much appreciated. We headed off again for another long paddle towards Gloucester in a smorgasbord of boats; an 8+ through to singles.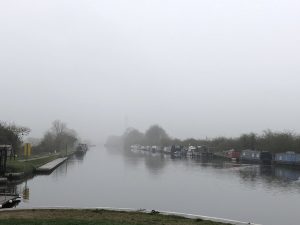 The second water outing saw more technical work for some of the larger boats, before heading back to leftover chicken curry and crumble for lunch.  Coach Andy's instructions of 'eat as much as possible' did not have to be imparted twice.
The afternoon sessions consisted of some faster pieces, there was some high octane racing in pairs amongst the some of the development squad, which did end up in a dip for one of the crews.  You can't have a camp without at least one capsize.  The 8+ was put through their paces after their technical earlier on in the day, with 1k sprints.  After emptying the tank on what was thought to be the last piece, at rate 30, faces fell when we were told to spin to do another two pieces, up and then down again.  Despite that, victory was had!  We pulled it out of the bag after catching a crab halfway through a Henley final against Vesta, coming back to win by a canvas (you had to be there).
Again after being told to pack away a couple thousand calories, a most tastiful dinner of Sheppard's pie and flan was consumed dutifully.   Onwards to day 3!