Day 3
We were graced with the sunshine! A most welcome change.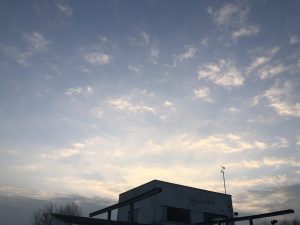 The third day was our usual long paddle out and back, followed by some practise race starts for the 4+, 4- and 4x. A lot of the development squad were out in the smaller boats again, some trying out pairs, doubles and singles for the first time.  There was one capsize to report, but as a result of a technical malfunction.  Well done to everyone else for staying dry!  And to be honest it was Dave's fault.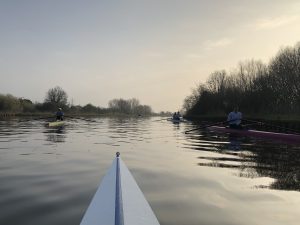 The 4- and 4x got a beasting in the afternoon doing 500m pieces off the racing starts that had been practised in the morning.  It was a glorious day to be messing around in boats.  To top it off we had another fantastic meal to look forwards to; Chilli followed by deconstructed apple and custard;-)
Day 4
We were back to clouds on the last day of camp:-(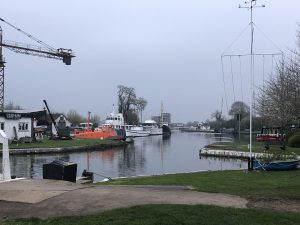 On the plus side the canal was still lovely and flat when we came down for our 7am outing.  We set off for a shorter first session than usual, with more focus on technique, and mixing up the crews with a combination of the development and senior squad members.  All in preparation for the last outing of camp; the 1500m time trial!  Had to be done.  In the mix was a 4+, a 4x, a couple of pairs and some singles.
We managed to make it back to the boat house before the wind hit, with expectations of it picking up significantly along with a heavy shower.  Neither ended up materialising however, which we were most appreciative of as we set about derigging and loading the boats that wouldn't be required that afternoon.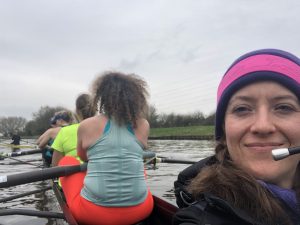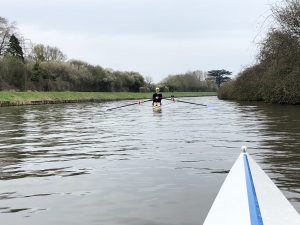 The time trial was a real success, with all boats enjoying themselves and the 4+ proving victorious.  Happy to report there were no casualties, a bonus considering the M.V Edward Elgar decided to make an appearance whilst we were pelting down the course at high speed.
An added perk was being able to sneak through the 'lie down' bridge behind a barge on the way home, without having to do any of the lying down.
Another training camp under the belt, onwards towards the first regatta of the season; Hammersmith.  Hope to see you there!