NOTICE – sadly due to the Coronavirus outbreak and restrictions in place, we are not able to run our Learn to Row course. As soon as we are able to safely run the course we will update sign up information here, and publish on social media channels. Follow us on Twitter and Instagram, or register your interest.
++++++++++++++++++
Are you ready to get fitter than you have ever been before, try a new sport and make friends for life? Barnes Bridge Ladies RC will soon be running the next learn to row course, starting Wednesday 13th May 2020.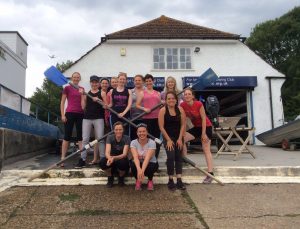 The course is ideal for those interested in getting an introduction to the sport and improving both general and rowing specific fitness. The plan is for you to also have heaps of fun and meet a great group of people. The course is for women 18+.
We aim to get you to understand the basic techniques of rowing and give you time on the water – to get a feel for whether rowing is for you.
Whether you turn out to be an aspiring Henley-hopeful or just want to mess around in boats a few times a week – this course is a great foundation.
The sessions will be one mid week session and weekends Learn to Row at BBLRC Course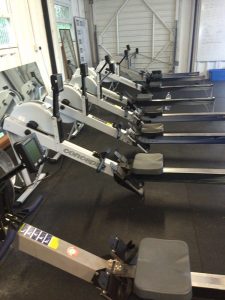 Rowing is not just about getting in a boat –  there is a strong focus on core stability and flexibility within the sport.
This will not only improve your technical ability and power application but also reduces the likelihood of injury. You will have a structured training plan and will be coached on the rowing machine (erg), in the indoor rowing tank and eventually go out on the water with an experienced cox and coach.
FAQs Do I need to attend all the sessions?
Yes, within reason. The learn to row course is structured in a way as to give you a real feel for the sport and what would be expected of you if you want to continue rowing after completion. Saying that, we all have busy lives and we understand that this sometimes gets in the way. We will be as flexible as we can be, but if you can't make a water session in the later stages of the course, you must let us know in good time so that we can plan the boats accordingly.
Do I need to be a club member to do the course?
No, there is no need to be a member to attend the course.
What happens after the course?
Those that have completed and showed the required aptitude and commitment may be invited to join BBLRC into the Novice squad depending on available capacity.
What kit should I wear?
Regular gym wear, really. The most important thing is that it is fairly tight-fitting as baggy kit can get caught in the runners of the boat. For water sessions, you may also want to bring a waterproof jacket – rowers train even if it's raining.
Do I need to bring anything or any special equipment?
No, just make sure you have trainers with you for fitness – you can borrow wellies from the club. Please bring bottle of water for session.
Do I need a level of fitness already?
Most of our participants are of average fitness level, but you will benefit from the course at whatever level you are starting from.
How quickly will I get on the water?
To begin with you will be coached on the rowing machine (called an ergo or an erg), and in an indoor rowing tank.  Towards the end of the course you will go out on the water with an experienced cox and coach, and with some more experienced rowers from the club sitting in the boats with you to make sure they are stable. As the group becomes more competent, you will be rowing as a full crew by yourself.
Ready to take on the challenge? Sign up here. For any other questions regarding the club or the course contact our Club Captain.